United Earth Federation Music Band
Founded
January 16
Allegiance
United Earth Federation
Flagship/Headquarters
DSS Aleksander
Nickname

His Admiral's Federal Music Band

Motto
We are the Admiral's music force
Colors
Grayish black and black
Decorations
Silver Gammadon
Commanders
Current
commander
Expeditionary Admiral Grant Gerard DuGalle Calliope

Admiral der Militaer Vassily Aleksander Petrenko

Aircraft flown
Helicopter
Bender 1 (Hind copter)

Genesis 3 (Seaknight helicopter)

Transport
Zulu 1 and Zeta 3-5 (Hercules planes)
His Admiral's Federal Music Band of the United Earth Federation
, also known as the
Federation Music Band
, was the military music band of the UEF. It was founded by
Expeditionary Admiral
Grant Gerard DuGalle Calliope
and co-founded by
Admiral of the Military
Vassily Aleksander Petrenko
. It was created in the UEF-FS7 War. Its headquarters was the
DSS Aleksander
.
The uniforms they are wearing was the Moscow Suvorov Military Music College uniforms, the Third Reich-era uniforms, and the United Earth Directorate uniforms. The MSMMC uniforms was used inside the Fleet Battlestation Starbeam, Valkyrie, and Ramstein. The Third Reich-era uniforms are used inside the DSS Aleksander. However, the only place the officers wears the UED uniforms was at the undeground city, New Equestria
Leaders and Co-Leaders
Edit
Russian Chromatic Fanfare Trumpets
Edit
Trombones
Edit
Dimitri Bodarenko
Vasily Zaitzsev
James Bond
"Jizz Jazz"
Indiana Johnson
Dimitri Cherdenko
Anatoly Makarov
Clarinets, Picolos, and Flutes
Andrei Harkov
Leonid Pudovkin
Dimitri Brodensky-Bodanov
Leonid Brodensky
Andrey Bodanov
Saxophones
Edit
Gerard le Desole
Alexei Bodarenko
Dimitri Vasilienov
Alexei Vasilienov
Hermann Doenitz
Adolf Voss
Sergei Zhrudenko
Bigger tuba-like things
Edit
Sasha Vlodenko-Zhrundov
Viktor Zhederov
Drums, Cymbals, Big Drums
Edit
Vladimir Vlodensky
Valery Kholonsky
Khalilov Vlodenov
Others
History During FS7 Invasion Edit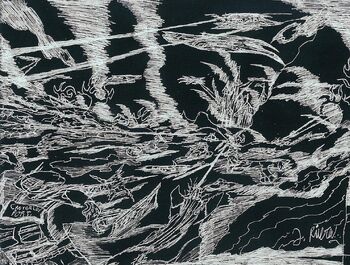 Ad blocker interference detected!
Wikia is a free-to-use site that makes money from advertising. We have a modified experience for viewers using ad blockers

Wikia is not accessible if you've made further modifications. Remove the custom ad blocker rule(s) and the page will load as expected.